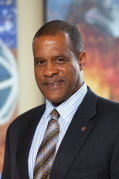 The vision of Dr. James E. Hubbard Jr., Morpheus Laboratory is a dynamic research facility focused on aerospace applications of smart materials and adaptive structures. Morpheus Lab has primary research facilities at NASA Langley Research Center, and secondary facilities at the University of Maryland, College Park. Office space is located at the National Institute of Aerospace. We gratefully acknowledge the lab spaces provided to us by the Advanced Materials and Processing and Structural Dynamics Branches of NASA Langley Research center.


AFOSR Flight Test
August 2012: Morpheus lab graduate students, in collaboration with Penn State University, conducted an unprecedented flight test of a custom-built avian-scale flapping wing UAV. The test, conducted at the AFRL Micro Air Vehicle Laboratory (the largest Vicon motion capture system lab in the U.S.), evaluated the performance of the ornithopter, whose compliant wing structure mimics the function of an avian wrist.

AIAA Fellow


May 2012: Dr. James E. Hubbard Jr. has been promoted to the rank of fellow of the American Institute of Aeronautics and Astronautics (AIAA). Fellows have made notable and valuable contributions to the arts, sciences or, technology of aeronautics or astronautics.

New Center for Adaptive Aerospace Technologies


April 2012: Morpheus Laboratory has officially announced the establishment of the Alexander Brown Center for Adaptive Aerospace Vehicle Technology at the National Institute of Aerospace (NIA), Hampton, Virginia.

Dr. Hubbard Publishes His New Book
January, 2010: Dr. Hubbard publishes his book titled "Spatial Filtering for the Control of Smart Strucutres". This book develops and details rigorous design methodologies and performance measures for the control of modern Smart Structures. For more information on Professor Hubbard's new book you can visit the publisher's website.